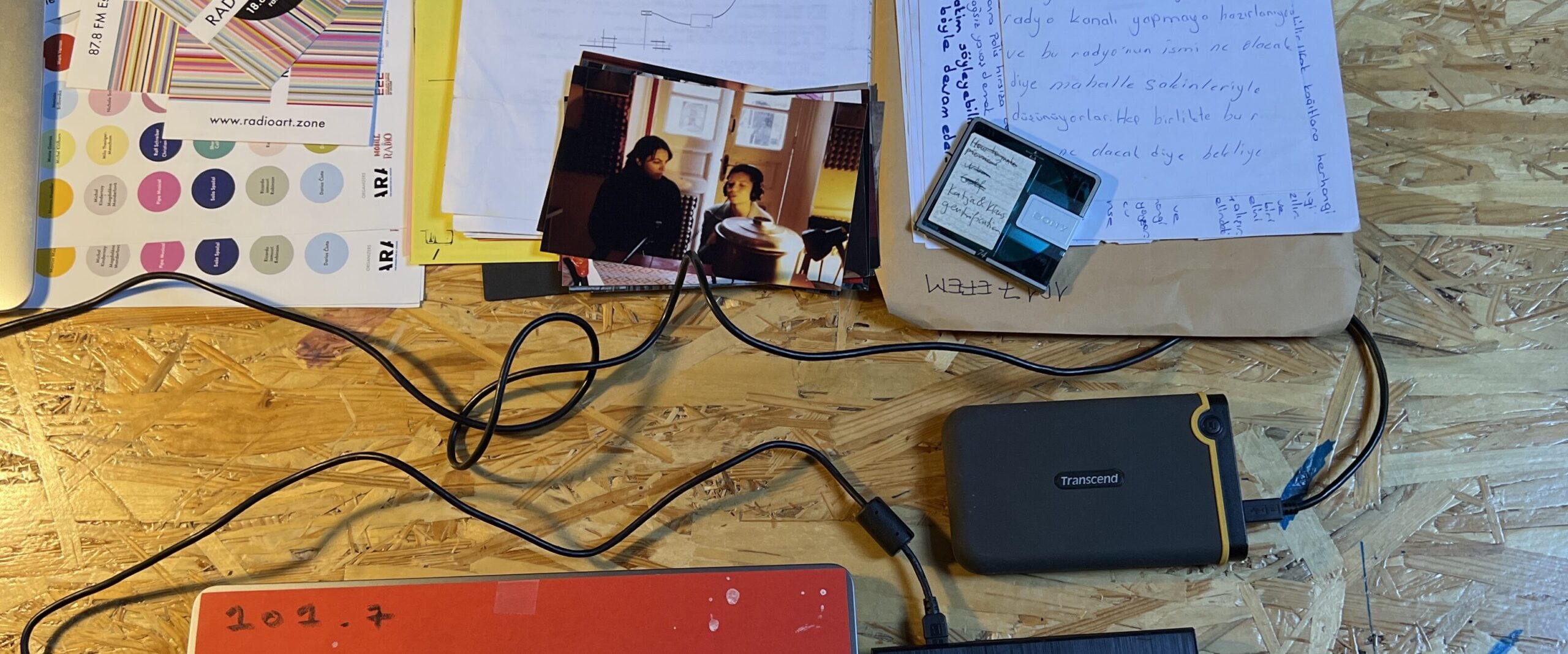 Pre-fair program // Oda Projesi: Radio Archive as a Witness (101.7 EFEM – 2005)
Participants: Özge Açıkkol (Odaprojesi), Seçil Yersel (Odaprojesi)
We are gathering around Oda Projesi's complex radio archive dated to 2005 with its variety of materials that is not only sound but with its created space and the socialites around it. This is beyond an audio archive that is visual and narrative. After sensing pieces of the archive, we would be going around the questions; does a radio archive only belong to the past? How is it possible to "look" at a radio archive that is more than sound? How to tell the story of a specific place and its people through a radio project archive?

The workshop is restricted to maximum 15 persons. Sign up via odaprojesi@gmail.com.

Before the workshop, it is suggested to try to listen to a 22 hours program that Oda Projesi recently prepared for Radio Art Zone project: https://radioart.zone/saturday-27-august

Oda Projesi is an artist collective; composed of Özge Açıkkol, Güneş Savaş and Seçil Yersel who turned their collaboration into a project in 2000 in Istanbul. From January 2000, their space in Galata functioned as a non-profit independent space, hosting projects, gatherings and acts up until march 16th 2005, when Oda Projesi was evicted from the apartment due to the process of gentrification. Since then Oda Projesi has a mobile status and not any more a specific space based; still continues to raise questions on space and place creating relationship models by using different mediums like radio stations, books, postcards, newspapers or giving form to different meeting points; depending on and respecting the creativity of cities and their citizens.

Oda Projesi have been into many international exhibitions such as 4th Gwangju Biennale; 8th and 9th and 17th Istanbul Biennale; 50th Venice Biennale; 8th Havana Biennale; "Collective Creativity" Exhibition in Kunsthalle Friedericianum, Kassel; "Beyond Belonging
Festival" in Ballhaus Naunynstrasse, Berlin; "The Gatherers" exhibition, Yerba Buena Art Center, San Francisco and Tensta Konsthall, Stockholm.